Kola Nut Tree Services  (KNTS) new school : Calvary Learning Center (CLC) is now fully operational! We started with six students and grew to twenty one.  This might look like a low number; however we are very grateful because from finding a location to competing the plank wood building took less than eight weeks!  This was a miracle in itself!  This was just a few days to schools starting in the country so many children had already been admitted to other schools. This number however, gives us chance to work out things, get a flow and also find the appropriate teachers. We believe and we know that all things work together for good to them that love God, to them who are the called according to his purpose. Romans 8:28.
These pictures and images are keeping you up to date with our activities.  CLC ranges from nursery 1 and 2 to grades 1 through 4. We limited the admissions to grade 4 so pupils spend at least two years with the CLC brand curriculum. Grade 5 and 6 classrooms are ready.
We also had the opportunity to have our first Parent Teacher Association meeting!
We are a brand new baby school and we need your financial support to educate more children, buy them books, pencils, games and other activity materials. Our vision is to buy land and build a school campus for the children – orphans, disadvantaged, IDPs due to internal war.  Thank you for your support. Please donate to help us train these children.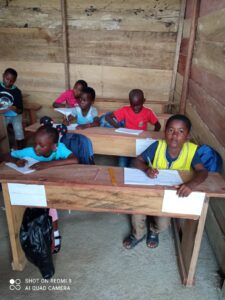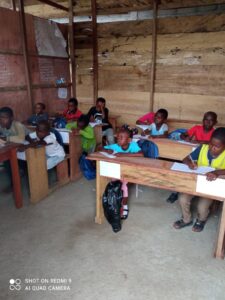 The children in a very short time have learned to sing the school anthem and sing it every morning:
Burdens are Lifted At Calvary 1.
Burdens are Lifted At Calvary 2.
What would the first semester of Calvary Learning Center be without some celebration!? So the children will have a Christmas concert, and here in this video, they are practicing for it.
CLC had it's first PTA meeting: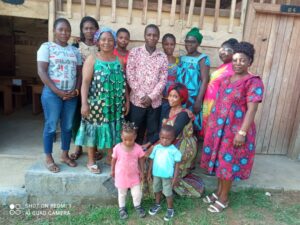 Thank you for your support and prayers.
Please donate today!
Peace and Blessings
Esther