Esther Yiyi Lamnyam
Esther Yiyi Lamnyam
Founder and Director
Esther is the founder of Kola Nut Tree Services, Inc.
Esther has been sending disadvantaged village children to school and also supports widows for more than 30 years. She traveled to Cameroon periodically to coach and mentor young adults so they can develop tools for their success, family, country and hence the world. With time and observation, she realised that to make lasting change, sponsoring and educating the children has to start at a young age and followed through the years and not intermittent coaching, and donations which might cause the kids to drop out of school when the donations don't come forth.
Also, in addition to standardized subjects, other modalities and practical projects have to be incorporated at a very young age to build the children up as creators with a community and outreach based focus to create impactful change in their lives, future and communities. With that outlook, Esther decided to embark on building a school from nursery to high school where children can learn, create and play. She is looking for donors and sponsors to share more of this vision with. Please consider helping in any way you can.
Some of Esther's experiences and certifications include : Life success strategies coach, natural approach to health coach, mentor, speaker, published author; Certified Professional Coach, Certified Health Coach, A Commissioned Stephen Minister and Facilitator at Reid Temple AME Church, Maryland.
Esther has a M.S. degree in Management of Information Systems from the University of Akron, Akron Ohio, a B.Sc. in Computer Science from Spelman College, Atlanta, Georgia.and many Information Technology certifications. She has great customer service experiences as she also worked in information technology helpdesk for years and the customer service industry including such corporations as the Ritz-Carlton Hotels, and Macy's stores. She has worked as an information technician in areas such as data entry, programmer, network administrator, database administrator, email and cloud administrator since 1990 so has an eagle's eye view and approach to problem solving, paying it forward, mentoring and leadership. Esther has worked with international organizations and with the U. S. government in various capacities providing information technology services.
Through being an author, speaker, life success strategies coach, & information technology consultant, Esther helps people to see the interconnectedness of their lives, and how to create their desired success, reclaim their lives, create their dreams, make an impact and have fun doing so. In the difficulties of her own life's journey, she learned strategies that would impact not just her life but the lives of others also.
Using the medium of books, coaching & speaking, she shares those strategies. Lessons taught through stories are easier to relate to, learn and remember Esther observed.
Some of Esther's books are:
Love Under The Kola Nut Tree. What City Moms Didn't Tell You About Creating Fulfilling Relationships (as Esther Lamnyam); 

Words of Silence (Poems of my Youth) (as Esther Lamnyam); 

Strive To be Happy, and Powerful Tools On How To (as Esther Lamnyam); 

How The Dog Became a Domestic Animal. (An African Folktale) (as Esther Yiyi); 

How The Longtime Friendship Between The Fox And The Leopard Ended. (An African Folktale) (as Esther Yiyi).

The Suitor Who Ate the Dinnerware Also (An African Folktale)

Through the Eyes of Nurses, COVID-19: The Steadfast Love Of The Lord Never Ceases; His Mercies Never Come To An End. ( as Esther Yiyi)
Learn more about Esther's journey that has led her to see a need for a school that guides, mentors and coaches children to be creators, humanitarians and Christlike; instead of perpetually looking for handouts that don't create lasting and generational change: About Esther – (KNTS founder's)  journey – Kola Nut Tree Services (knts.org)
Your support and sponsorship to help these young children learn and bring their genius to the world is very much appreciated. Please sponsor this endeavor or donate; Donation – Kola Nut Tree Services (knts.org). Help us bring lasting change that will affect not just the children, their communities only but potentially the world. Thank you!
Emmanuel Nfor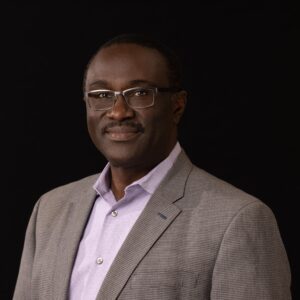 Emmanuel Nfor
Director
Emmanuel Nfor is a health executive with over 26 years' experience in pharmaceutical system strengthening and socioeconomic development. His experience cuts across several technical areas such as medicines policy review, procurement and supply, hospital pharmacy practice, public health consulting, manufacturing, and institutional and human capacity building. Emmanuel's career focus has been in managing supply of technologies for malaria, HIV/AIDS, tuberculosis, maternal and child health programs in developing countries.
Emmanuel has worked with several global health and development organizations to control infectious diseases like malaria, HIV and AIDS, tuberculosis and other health threats like antimicrobial resistance and pandemics.
Key professional achievements of Emmanuel are development of capabilities to manage medicines and related services in African and Asian countries, contributing to better healthcare services for populations in hard-to-reach settings by increased access to and appropriate use of essential medicines and supplies. He led the establishment of a regional technical resource collaboration Centre for West Africa, which has contributed to improved participation of academia in efforts to strengthen pharmaceutical supply systems for better health outcomes in the sub-region.
Emmanuel is a pharmacist and holds a MBA in Health, Population and Nutrition from Keele University, UK. He speaks English and French, and enjoys playing tennis.
Mike Snow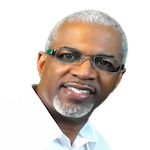 Mike Snow
Technical Advisor: Digital Marketing
Mike Snow is a renowned digital marketing strategist with an impressive track record of driving growth and innovation. He brings a wealth of knowledge and hands-on experience as the owner and CEO of Mike Snow Digital, LLC, where he consults with diverse organizations to enhance their digital presence and reach their marketing goals.
Mike's career path is marked with significant contributions in the digital marketing arena, making him a highly sought-after expert. His firm, Mike Snow Digital, LLC, has consistently delivered high-impact digital marketing solutions to various businesses, non-profit organizations, and startups, thereby enhancing their online visibility, customer engagement, and ROI.
In his role as a Digital Marketing Advisor, Mike's broad range of expertise encompasses SEO, SEM, content marketing, email marketing, social media marketing, and analytics. He's adept at crafting comprehensive digital marketing strategies that are data-driven, customer-centric, and tailored to the unique needs of each organization.
Mike's approach to digital marketing is rooted in the belief that technology should serve as a catalyst for societal development. This ethos aligns seamlessly with his role on the Board of Directors, where he advises on strategic digital marketing initiatives aimed at promoting the mission of the organization and connecting with the digital-savvy public.
An ardent advocate for continuous learning, Mike stays updated with the latest digital marketing trends, tools, and best practices. This enables him to drive the organization's marketing efforts in an ever-evolving digital landscape.
With Mike's proficiency in digital marketing, combined with his passion for leveraging technology for societal benefit, he plays a pivotal role in steering the organization towards achieving its objectives. His commitment to the organization's cause extends beyond his professional pursuits, making him an invaluable asset to the Board of Technical Advisors and Board of Directors.
Ursla Behngancha Atem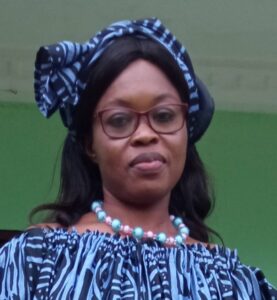 Ursla Behngancha Atem
Technical  Advisor – Education
Ursla obtained a Bachelor degree in Education and a minor in the Department of History at the University of Buea, Cameroon in 2004. She obtained a professional Masters Degree in Science of Education at École Normale Supérieure (ENS) Yaounde 1 in 2010 which enabled her to be a Seasoned Teacher Trainer.
As a Teacher Trainer, she has worked in the following institutions in Cameroon: GBTTC Kumba, NABVOC Kumba, and GTTC Limbe where she is currently serving as a civil servant with the Cameroon government. As a Teacher Trainer, she has written two yet unpublished papers in her area of studies. "Student Self – discipline and its Effects on Academic Performance " and "Educational Stakeholders as Promoters of Pedagogy of Excellence."
Ursla has attended so many in-service Training seminars to keep her current with new innovations in the field of education and she is an examiner in the CAPIEMP examination.
She is an expert in the planting of Schools as she has spearheaded the planting of many primary schools in Cameroon-: Victory Nursery and Primary School Bai Panya, Calvary Learning Center, Tancha – Kumba etc
Blanche Ndangha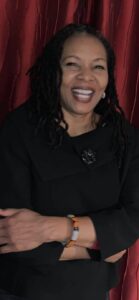 Blanche Ndangha 
Technical Advisor – Health
Blanche is a Registered Nurse (RN) with a Bachelor of Science (BSN) degree; a travel nurse based in Minnesota U.S.
She attended Augsburg College and attained  her Bachelor's of Science in nursing. Blanche has been a nurse for more than 20 years. She has worked in most departments in the hospital from emergency room, to intensive care, Postanesthesia Care Unit (PACU), and Covid-19.
She has 5 children; with one child left at home that she is excited to see attend college next year (2024).
Some of the quality traits that Blanche has are providing the best compassionate care, patient advocate, love working with people and a hard worker. In her free time she travels, works out, and cleans. A big goal of Blanches' is to work with KNTS (Kola Nut Tree Service, Inc.) and watch it grow and develop.